Virtual Venues Network operated from 1999 - 2010.
This is an archive of the site.
NEWS
Latest Show: Chickenfoot!
Joe Satriani, Sammy Hagar, Chad Smith and Michael Anthony came together as Chickenfoot in 2009. In a matter of months the band was selling out shows across the country, went to number one on the Billboard charts and their debut CD went gold. In February and March 2010, while the band is on hiatus from live touring, Virtual Venues Network will host twenty virtual concert screenings of the "foot", on stage in Phoenix.
Click here for details and dates
.
Indie Roadshow
Virtual Venues Network introduces an exciting new forum for independent film makers, music documentaries and alternative content with the Indie Roadshow, premiering in October. Exclusively offered through the Virtual Venues Network, the Indie Roadshow provides an alternative to traditional theatrical presentations with a new, digital showcase environment in night clubs and college music venues. The Indie Roadshow will feature the best of these each month, hosting pre-release exclusives and staging DVD release events city to city, on tour, year round.
Upcoming Tours
Watch for upcoming Virtual Concert Tours with: Chickenfoot, Pete Seeger Celebration, String Cheese Incident, Taj Mahal & The Phantom Blues Band, Los Lobos, Joe Satriani, Michael Franti, Sound Tribe Sector Nine, Camper Van Beethoven, Thomas Dolby, Live Earth sessions and more!
LATEST VIRTUAL CONCERT TOUR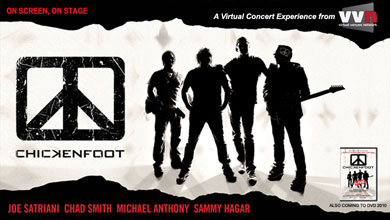 More dates to be announced soon!