STRING CHEESE INCIDENT
HIGH DEF FROM RED ROCKS
After fourteen years on the road and 1,500 shows, the String Cheese Incident said farewell last August with four now legendary sold-out shows at Red Rocks in Colorado. While the band is no longer touring, Virtual Venues Network (www.virtualvenuesnetwork.com) was there to capture those final nights in stunning high definition and is currently routing a life-size Virtual Concert tour to night club stages across the country. These screenings are available exclusively through the Virtual Venues Network and not otherwise available online or on DVD. The only way that SCI fans can experience Hi Def from Red Rocks is to buy a ticket when the show comes to town!
A peek at the online fan chats tell the tale, String Cheese Incidents Hi Def from Red Rocks Virtual Concert, life size, on-stage and through the house sound system, is bringing the magic of those live shows to hometown venues everywhere this summer and fall, reuniting their fans on the dance floor!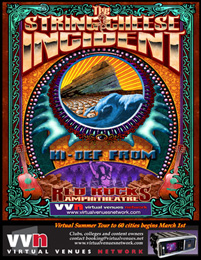 String Cheese Incident
"High Def From Red Rocks"
* = Benefit for Our Future Now including live performance with Michael Kang, Chris Berry & Jinji