CHICKENFOOT
Joe Satriani, Sammy Hagar, Chad Smith and Michael Anthony came together as Chickenfoot in 2009. In a matter of months the band was selling out shows across the country, went to number one on the Billboard charts and their debut CD went gold in the US and Canada. In February and March 2010, while the band is on hiatus from live touring, Virtual Venues Network will host virtual concert fan club screenings of the "foot", on stage in Phoenix, at select club and college campus venues.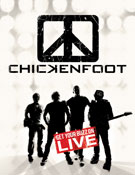 Chickenfoot
"Get Your Buzz On - Live!"
More dates to be announced soon!