TAJ MAHAL AND THE PHANTOM BLUES BAND
Composer, multi-instrumentalist and vocalist Taj Mahal is one of the most prominent and influential figures in late 20th century blues and roots music. Though his career began more than four decades ago with American blues, he has broadened his artistic scope over the years to include music representing virtually every corner of the world – west Africa, the Caribbean, Latin America, Europe, the Hawaiian islands and so much more. Over the years, his passion and curiosity have led him around the world, and the resulting global perspective is reflected in his music.
This fantastic night in San Francisco, captured during opening week at the new San Francisco Yoshi's, finds Taj in top form with the Phantom Blues Band and Jon Cleary sitting in on keys. Its classic Taj Mahal, captured in high-definition and celebrating 40 years of global roots and soul music .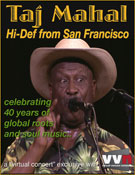 Taj Mahal and the
Phantom Blues Band