MICHAEL FRANTI'S POWER TO THE PEACEFUL
MUSIC. CONSCIOUSNESS. ACTION.
Michael Franti and Spearhead celebrated the tenth year for Power to the Peaceful this September, with over 50,000 people participating in a day of music, art and social justice in San Francisco's Golden Gate Park. This performance from 2006, seen in its entirety for the first time in an exclusive to Virtual Venues Network, includes special guests Saul Williams, Anti-Flag, Radio and Marie Daulne of Zap Mama joining Michael on stage for a rocking, powerful afternoon in the sunshine!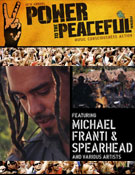 Michael Franti's
"Power To The Peaceful"